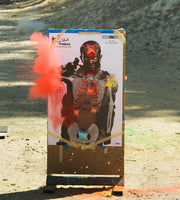 How It Works
1. Simply peel away the adhesive on the back of each exploding target.
2. Stick on anything from paper targets, to cardboard, to steel! They are fantastic to use as standalone targets or to stick to other paper targets to give you a more realistic shooting experience.
3. Shoot and watch your targets explode with color. Targets can be shot 3-5x each!
ORDER NOW
Exploding Targets in Action
Why ColorBlast targets?
Always Know When You Hit A Target
Shooting at paper targets can get old, and it's not always easy to know where the last round hit.
With Color Blast exploding targets, you'll know what you hit each time
A Fun and Realistic Shooting Experience
Color Blast Targets are versatile and multi-functional.
Customize your colors and arrange your exploding targets in a way that suits your needs.
Safe & Easy Cleanup
The specially formulated powder is safe to use and and the capsules stay in one piece after being shot, rendering all cleanup fast and easy. There are no actual explosives in the targets, making them safe to shoot anywhere.
The powder is non-toxic and non-hazardous, making it 100% safe to use and environmentally friendly.
Always make sure to pick up and clean up the empty capsules when you're done shooting!
Testimonials
These targets were a blast for my family. Fantastic explosions that really got my kids excited to shoot. Loved the fact that each targets explodes more than once.

Michael
As I've gotten older, my eyesight has made seeing my shot placement more difficult. With these targets I always know when I'm on target. Five stars from me.

Cory
Color Blast Targets are both useful AND fun. They are definitely a head turner at the range! The worked even better than expected. The powder does not stain and even smells good!

Rachel
CONTACT US
Got questions?
Email us at info@cbtargets.com
Or Call: (562) 450-1539
Refunds and Returns
Refund Policy
In the rare instance that there is any damage to a target(s) in your order, we'll send you extra targets on the house to make up for it, on us! Email us and we'll make sure you get even more than you bargained for, no returns, no questions asked, and no deadlines necessary!